Account Manager (New Business)
Come join an eager team of AI enthusiasts dedicated to bringing exciting and game-changing technology to the innovative businesses we work with. You will play a key role to expand ML2Grow's impact on AI adoption in industries and continue our successful growth of the past years. The ideal candidate is a true hunter who uses […]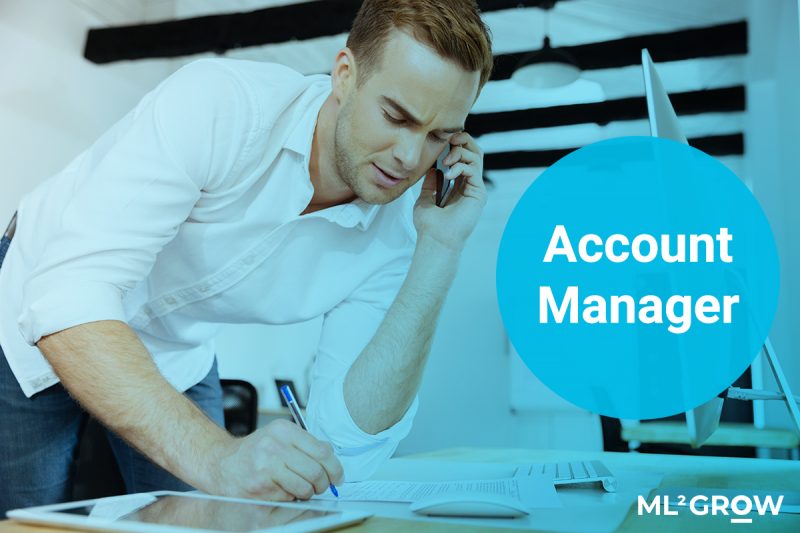 Come join an eager team of AI enthusiasts dedicated to bringing exciting and game-changing technology to the innovative businesses we work with.
You will play a key role to expand ML2Grow's impact on AI adoption in industries and continue our successful growth of the past years. The ideal candidate is a true hunter who uses a passionate voice to communicate our innovative solutions to new clients and help them overcome their business challenges.
Can you be that person? Let's get in touch.
Your role in our team:
Learn about the impact AI technology has on businesses and how ML2Grow develops and delivers these solutions to its clients.
Identify new business opportunities and qualify leads within the assigned territory.
Establish and maintain meaningful business relationships with SME-owners, high-level decision-makers and other stakeholders.
Work closely together with our business strategists and our technical team to develop clear and concise value propositions to our clients.
Be a trusted advisor by listening and analysing client's needs and identify how ML2Grow can help.
Guide the marketing team with your growing experience in the field to create the support and material you need to be successful.
Attend professional events and networking opportunities.
Be honest, realistic, enthusiastic and close deals.
About ML2Grow
ML2Grow provides services to help organizations with advanced machine learning to increase productivity, gain competitiveness and take full advantage of disruptive technology which continues to affect markets at a rapid pace.
Founded in 2017 as a spin-off company of Ghent University and imec, we house all expertise required to develop data-driven solutions, deliver production systems, and provide flawless operational support. Our unique vision and approach on machine learning technology have resulted in a proven track record with delivered value to both SME's and major brands in various market verticals.
Your profile
You have 1 to 4 years of experience in a similar role.
You understand the specifics of B2B sales. Specifically, you understand sales pipelines that are being used to offer software services.
You are fluent in English and sufficient in Dutch with other relevant language skills being a plus.
You make use of all prospecting channels (telephone, e-mail and social networks)
You feel comfortable to represent and convey ML2Grow's ambitions at networking opportunities.
You communicate well to both internal and external stakeholders.
You are willing to learn how to (independently) perform research to prepare targeted offerings to prospects.
You are willing to learn how to find and quantify leads that match our solutions.
You are in the possession of a driver's license and are willing to travel to meet prospects and clients if the pandemic situation in Europe improves and allows for it.
What we would to offer you:
A personalized and competitive fixed salary (package) with an added commission

Company car, laptop, meal vouchers, a fuel card, etc.

The opportunity to work with and learn more about AI technology in a high-tech organization.
A varied role that will allow you to meet a broad set of innovative and interesting client companies across sectors.
A pleasant work environment in a spacious office located right next to the train station of Gent-Sint-Pieters.
The chance to take initiative and grow within our organization.
A relaxed work environment which offers flexibility to organize your workday in return for assuming ownership of your key roles and responsibilities.
Up for the challenge? Contact us at sales@ml2grow.com.